Welcome to Happy Tails Animal Hospital
We are a small animal veterinary hospital in Vacaville, CA.
Discounts
We offer a 10% discount for
• Military
• Law Enforcement
• Firefighters
• Seniors (over 65)
• and Service Animals (please note this is only for trained service dogs and does not include emotional support animals)
At Happy Tails Animal Hospital, we offer a variety of services to care for your pet. If you have any questions or would like more information on how we can care for your pet, please contact us today.
We see dogs and cats exclusively.
View All Services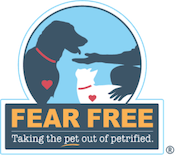 Fear Free Medicine
At Happy Tails, we feel that pets are family and should be treated with love and respect. Many pets do not like going to the vet, it makes them anxious and we know that makes you anxious as well.
Our goal is to make coming to the vet a happy experience for the whole family. For some pets that have had very negative experiences at the vet in the past, this may take some time and effort from you and us.
Learn More
"Wonderful clinic! Warm, inviting and comfortable. This clinic works very hard to make not only the animal comfortable but the owner as well. Separate cat & dog sections in the waiting areas. Dr. D and Dr. A are amazing. My family has used Happy Tails since it opened and couldn't be happier. They truly are animal lovers and it shows!"

Tiffany A.
"Compassionate staff that caters to cats. So far I've been there twice and both times I was impressed with the quality of care and attention to detail by both technicians and doctors. I have a high standard for veterinary care and this hospital has my stamp of approval."

Loren R.
"My wife and I came to this place a few years ago because our dog was sick, they gave my wife and I two options one of which we could have had more time with him, but he would still be in tremendous pain, the other was to put him down, we made the hard decision to put him down so he wouldn't have to be in pain anymore, the staff was unbelievably caring towards us and were beyond amazing and professional throughout the whole process."

James S.
"The staff is excellent here, and they offer free "happy visits" before an actual appointment for dogs that have a fear of the vet. I am so happy I found this clinic, because my dog can behave badly at the vet, but he feels comfortable here. I definitely recommend it!"

Sarah G.
Cat-Friendly Practice
We are happy to announce that we have achieved Gold Status from the AAFP (American Association of Feline Practitioners) as a Cat-Friendly Practice!
A Cat-Friendly visit to our hospital starts at home with you. Our staff can educate you on how to help your cat acclimate to the carrier and the car ride so you're not both stressed out before you even pull in the parking lot. When you arrive at Happy Tails you'll either be seated in our Cat Only waiting area or taken into our Cat Only exam room.
Learn More
Ready to see our expert team?
Your appointment will be confirmed by phone by our staff.
Hours.
Monday – Friday: 8:00AM – 8:00PM
Saturday: Closed
Sunday: Closed